Downtown Ventura Farmers Market
Saturdays from 8:30am - 12noon
The Downtown Ventura Certified Farmers Market has been running continuously since 1986, and is the oldest market in the county. This is such a fun market because it's right along Main Street in downtown Ventura, and you'll hear the bells from the Mission as you stroll through the market. And since you're already downtown, after you finish at the market you can visit all the great little local shops. The Market has food trucks next to the Mission, but if you'd prefer a more traditional breakfast there are plenty of restaurants close by too.
Over 45 Vendors

You'll find way more than just fruits and vegetables at this sprawling market. Fresh bread, local honey, nuts, fruit juices, fish, meat and eggs are all on the menu!

Location & Hours

You'll find the Downtown Ventura Farmers Market open Saturdays, rain or shine, from 8:30am to Noon. The market is located on Main Street just across from the Historic San Buenaventura Mission.
---
Downtown Farmers Market FAQ's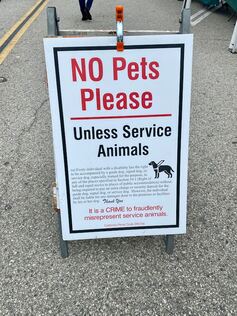 Q: When is the Downtown Ventura Farmers Market?
A: Every Saturday from 8:30am to 12 Noon, rain or shine.
Q: Where is the Downtown Ventura Farmers Market?
A: The Farmers Market moved last year to Main Street, between Mission Park and Palm Street.
Q: Can I bring my dog to the Farmers Market?
A: Sadly, no. Pets are not allowed unless they are certified service animals.
Q: Where should I park?
A: There's plenty of free parking in lots just south of Main Street, or you can always park in the free garage. Since Main Street is pedestrian only now you can't park along there, but there are metered spots located on the side streets.
Q: Are there food trucks at the downtown Farmers Market?
A: Absolutely! You'll find them in the parking lot located right next to the Mission, just off Main Street. There are stands with snacks like coffee, tamales and kettle corn, and trucks with larger meals. There are picnic tables in the center so you can sit and enjoy your meal there. If you want something more you'll find that some of the restaurants along Main Street near the market are open like
Cajun Kitchen
and
Kaapicat Cafe
.
Q: Are there products other than just fruits and veggies at the Ventura Farmers Market?
A: There's so much more! You'll find eggs, meats, breads, honey, cut flowers, plants, soaps and much more. Part of the fun is that you never know what you're going to find. The farmers markets are great for gift shopping!
Q: Do I have to bring my own bags to the farmers market?
A: You don't have to but it's a great idea. Most of the stands will have plastic bags they can give you but this is a great time to break out your favorite reusable bag or basket and put it to good use.
Photos of the Downtown Ventura Farmers Market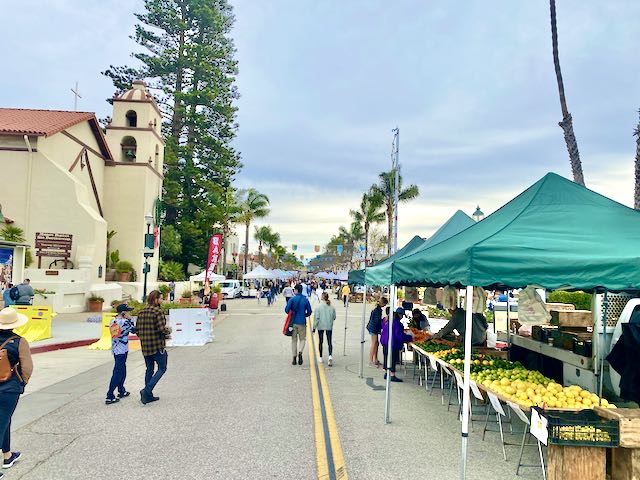 The Market runs from Mission Park all the way down to Oak Street in downtown Ventura.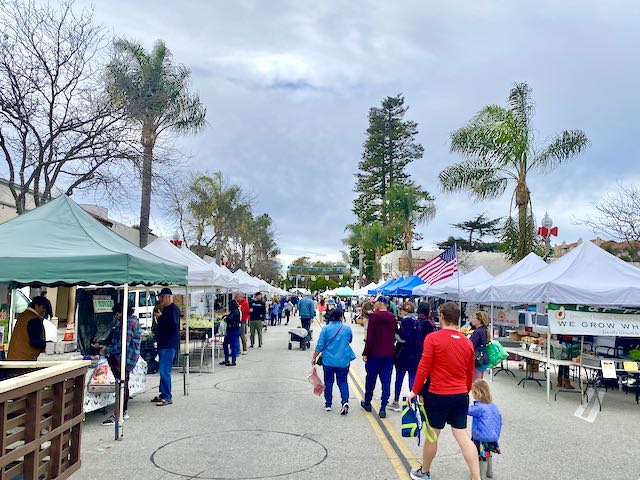 There's way more room to move around since the market moved to Main Street.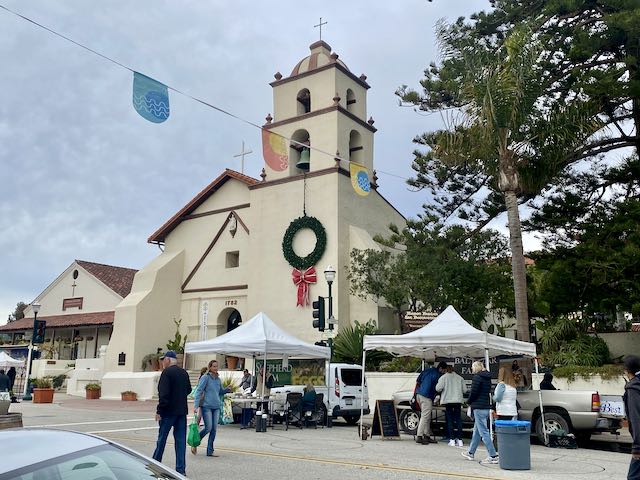 One of my favorite things about the downtown Ventura market is hearing the bells ring at the Mission while shopping.